School E-Learning  Platform

Our own Bespoke Schools E-Learning Platform, developed by Ed Africa.
Ed Africa is the future of a digital educational revolution in Africa.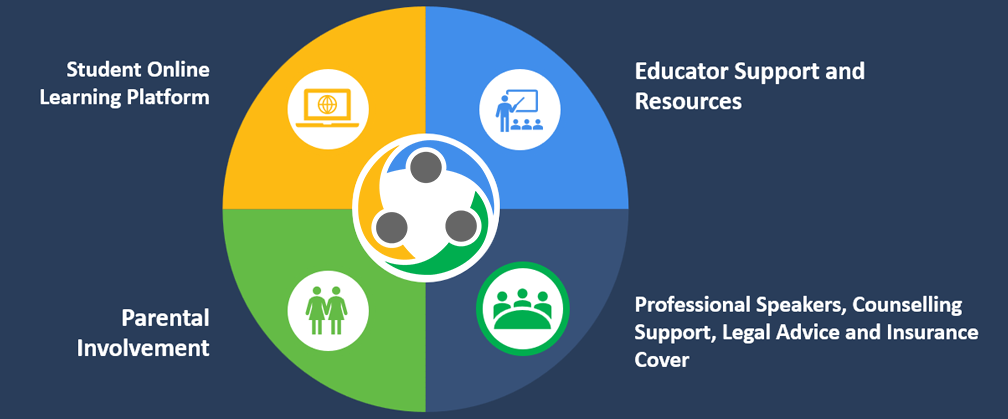 The CyberSharp solution equips schools and families with the skills that they need to be safe and smart online.
Be Safe Online
It is extremely important to understand how to be safe and smart in an online world. CyberSharp aims to create this awareness through its ongoing education platform. Being safe online entails many aspects of living in a connected world where we have access to various different digital devices from PC's, tablets, phones and gaming consoles.
There are many incidents related to inappropriate online behavior with social media, cyberbullying, trolling and cyber-crime. There are equally as many really positive stories where people have prospered by using technology and the power of connectivity in a digital world to their benefit.
Our goal is to develop smart digital citizens that can thrive in an exciting new digital world.
CyberSharp is an ISASA endorsed corporate member.
Our Goal
Our goal is to empower children through our awareness and education solution to develop themselves into smart digital citizens that are equipped to be safe and savvy in an exciting digital world.
A cutting edge e-learning platform will provide a positive learning experience using engaging and interactive content on an ongoing basis staying relevant and dynamic. The platform will include parents and educators in the learning process.
A Word
From Verlie Oosthuizen
" I extend my strong support for CyberSharp and its program to protect children online. CyberSharp is on the forefront of the battle to protect children online and I commend your efforts for your innovative and effective educational programs.  I commend your unique, grassroots approach to also reach parents and educators with the best resources and information. Thank you for all that you do in this important area of online safety "
– Verlie Oosthuizen
Shepstone & Wylie Attorneys Partner, Head of Social Media Law
We would love to discuss how CyberSharp can help you.
28 Peter Place
Lyme Park
Sandton 2060